COMFORT FINISH PLUS System
1 November 2021


TOURNAMENT FINISH PLUS System
1 November 2021
Courtsol
COMFORT System
Four-coat system for old or new courts.
The particularity of the COURTSOL COMFORT system lies in the application of Courtsol resins over a soft rubber mat stuck onto the surface.
This system offers players maximum comfort, decreasing risk of injuries. It is particularly adapted to multipurpose playgrounds.
---
Technical
informations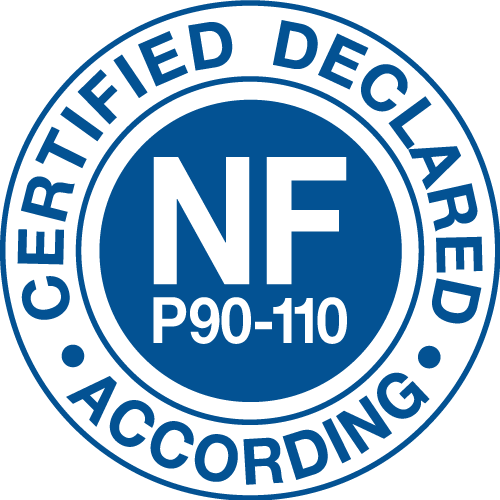 Composition of the system :
Glue : COURTSOL POLYBOND
Carpet : Rubber 4 mm
Pore-filler : COURTSOL RESIBASE Bp
Intermediate coats : COURTSOL RESIBASE
Wear-resistant coat : COURTSOL RESITOP
Lines marking : COURTSOL LINES

System features :
Outdoor or indoor use.
Good colour and UV stability.
Perfect evenness and aestheticism.
Game quality and a very enjoyable playing experience.
High mechanical resistance and good longevity of the system.
Low glare in sunny weather.
ITF classification 3

Practical recommendations :
The coating obtained is exclusively assigned to sport practices and the players must imperatively wear the appropriate shoes (such as tennis or basket with white soles. Black soles are to proscribe).

System maintenance :
Remove tree leaves on regular basis from the court.
Sweep and/or clean with clear water at least once a month or more often according to the surface's state.
System
details

Courtsol
Fongimur
Solution décontaminante préventive et curative destinée à lutter contre l'apparition des mousses, algues et champignons.

Courtsol
Polybond
Two-component solvent-free polyurethane adhesive designed to bond rubber/cork mats to concrete or asphalt for the installation of synthetic and sports surfaces.
Courtsol
Rubber Carpet
Tapis caoutchouc de 4 à 10 mm spécialement sélectionné pour les systèmes Courtsol Comfort et Comfort Finish Plus.

Courtsol
Resibase BP
Revêtement à base de résine acyclique renforcée par des charges de grosse granulométrie, destiné au bouche-porage des surfaces neuves et au ragréage des surfaces très irrégulières. Mélangé à du ciment, il permet aussi de déflacher des épaisseurs importantes.

Courtsol
Resibase
Revêtement synthétique souple teinté dans la masse, à base de résine acrylique et de charges de granulométrie moyenne. Il sert de couche intermédiaire des systèmes multicouches Courtsol.

Courtsol
Resitop
Synthetic finish based on acrylic resin and fine-grain fillers. It provides a very fine-grained surface for accurate ball rebound and optimized anti-skid properties. Used as a finish in ITF 3 systems.

Courtsol
Lignes
Peinture pour le traçage des lignes à haut pouvoir couvrant, formulée pour un marquage en une seule couche. Existe en blanc et dans les teintes homologuées pour les traçages omnisports.